Irresistibly Modern
An exceptional piece of furniture, this globe amazes and enchants: thanks to the extreme transparency of the acrylic crystal structure, the globe seems suspended in the air...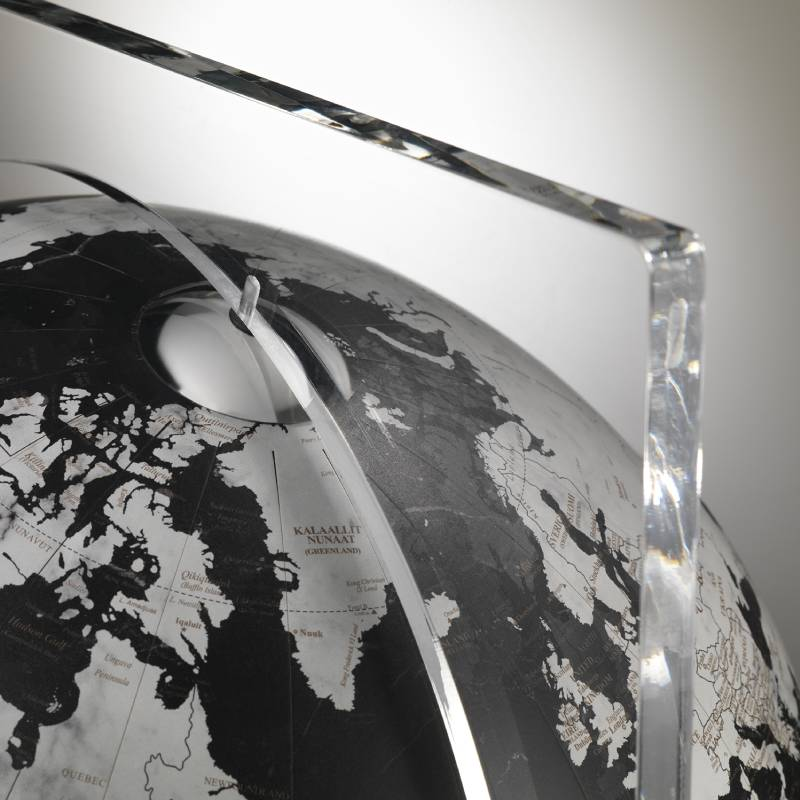 Artico Black
Clean and essential lines and quality materials give character to this exclusive globe.

Free shipping in Italy and in the countries of the European Community (except Cyprus and Canary Island)
Product description
What we present you with in this page is the Artico model, a floor standing globe embellished with a Nero Marquinia marble base: A Spanish marble, immediately recognizable for its dark and intense background, crossed and adorned with thin white veinings.
The quality of the materials used for the construction of this floorstanding globe is confirmed by its clean and essential lines, creating an exclusive design able to give further character to the most elegant environments.
The structure
The structure that supports the globe, on the other hand, is made of acrylic crystal, a luminous and high quality material, which gives to this globe an original and modern appearance, never predictable. The result is an exclusive globe, a winning combination of tradition and innovation, able to give character to any type of environment, from classic to modern.
The Sphere
The "Artico" globe takes shape in a sphere with a diameter of 40 centimeters, covered by an updated map and elegant tones, realised by using the same texture of the marble below.
With this new and prestigious globe, our company wants to satisfy, once again, the needs of a sophisticated public with refined tastes, lover of any type of journey, real or imaginary.
Technical specifications
Dimensions
51 × 40 × 101 cm
Globe Material
Cellulose, Polymer
Structure Material
Black Marquinia Marble, Acrylic Crystal
Map
Contemporary, Black Marble
Rotating globe sphere
Yes