Bridge Leather
Desk globe with integrated wireless charging base and Leather sphere
Dimensions

22 x 22 x h 32 cm

Sphere Diameter

22 cm

Map

Contemporary

Assembly Required

No
Free delivery to all European Community Countries
Delivery in Italy in 2-3 working days - EU in 2-5 working days - rest of the world in 7-10 working days.
Find out more
Get 5% off
Sign up for our newsletter and immediately receive a welcome coupon for 5% off your first purchase of at least 100€! Sign up now!
Free delivery to all European Community Countries
in 48/72 hours, with quick and easy returns. Find out more
Secure purchase
Choose your preferred payment method. Find out more
Product description
Your desk is a microcosm that talks about you: your notes, your favourite pen, photos of those you love. Give it a touch of unmistakable style: discover Bridge, our globe with integrated wireless charging.
Sometimes ideas arise from small daily gestures which, suddenly seen in a new light, can give life to something unexpected. It was an ordinary routine, like placing your cell phone on your desk as soon as we arrive to the office, that inspired us to design this exclusive desk globe. The solid walnut base of the Bridge globe is a wireless charger for your mobile phone: this is how the long Zoffoli tradition meets technological evolution, for those looking for functional solutions without giving up the elegance and style of Made in Italy craftsmanship.
Bridge embodies all the wisdom of more than seventy years of our history, from the production of the solid walnut base to the meticulous design of the modern map. The care and attention are the same as always, its beauty speaks for itself. Bridge is the connection between past and present, testimony of the heritage of the Zoffoli brand with a look at innovation.
The leather map is the distinctive element in this desk globe: the wonderful brown and red tones merge into an object with an authentic and original design. The walnut base holds the real innovation of Bridge globe: the integrated wireless charging.
Technical Features: 
- The base (diameter 17,5 cm) has a surface for wireless charging of QI-compatible devices***
- Simply place your smartphone on the base and start charging
- Power supply with USB cable included
- Power output max. 15 watts
- 1 USB-Port
*** compatible with iPhone 14/14 Plus/14 Pro/14 Pro Max/13/13 mini/13 Pro/13 Pro Max/iPhone 12/12 mini/12 Pro/12 Pro Max/11/11 Pro/11 Pro Max/XS MAX, compatible with Samsung Galaxy S22/S21/S20/ S20+/S10/S10+/S10E/S9, compatible with Galaxy Note 20/20+/10 and other wireless charging-enabled phones.
Attention: the globe includes the USB cable but does not include the USB power adapter.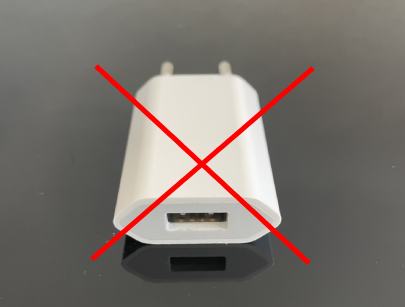 Technical features
Dimensions

22 x 22 x h 32 cm

Sphere Material

Leather, Polymer

Sphere Diameter

22 cm

Structure Material

Natural walnut solid wood, Stainless steel

Map

Contemporary

Globe sphere rotation

Yes

Assembly Required

No

Type

Desk Globes

Map Colour

Brown/Tobacco
Why you should choose it
Designed for those who love unique and design objects
An accessory of great character ideal for your desk
Perfect to decorate rooms in a modern style
Impress the ones you love with an extraordinary gift