Artemide
Elegant bar cabinet with side tray 
COD: Z.61
Artemide is a bar cabinet with side trolley made with walnut stained wood structure, ideal to welcome guests with a touch of elegance. The globe contains a 50cm diameter compartment for storing drinks and glasses. The upper surface offers a large area for bar accessories, carafes, glasses and your favorite wine and liqueur bottles. This globe also consists of a large bottom base: it is very solid and decorated with natural colors to water. The sphere rotates completely around its meridian in both open and closed position.
Artemide is the perfect globe to serve an original and stylish after dinner! 
The bar accessories in photos (bottles and glasses) are not included.
Features 
- Total dimensions: 92x68x98 cm
- Sphere diameter: 50 cm, the internal compartment can accommodate up to 12 glasses and 4/5 bottles. Additional bottles can be stored in the lower compartment and in the side tray. 
- Map of the 16th century
- Color: classic
Our advice
- Designed to add a touch of elegance to your living room
- Ideal to accompany an aperitif or after dinner with friends or colleagues
- Perfect for classic environments but does not exclude more modern locations 
- Suitable for those with large spaces (for a greater enhancement of the product we suggest to place it in an area of at least 100 x 80cm)
- The globe Artemide is also perfect as a gift idea to impress 
XVI century map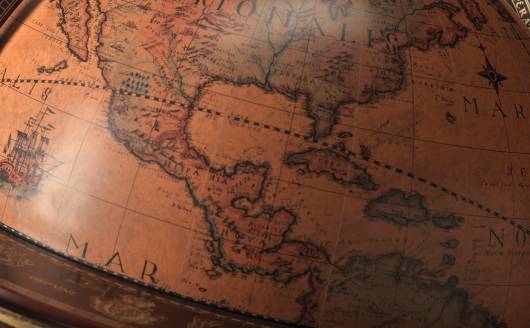 Explorers, new worlds to discover, long sea voyages through unknown lands and never-crossed seas. All the charm of the ancient maps is contained in this accurate reproduction of 1500, called "The Golden Age of Cartography" for the innovative contribution of the great cosmographers of the time such as Waldseemüller, Piri Reis, Frisius, Mercatore. This map is rich in geographical references according with the knowledge of the time and the interior of the globe is finely decorated with ancient iconography and mythological characters. A cartography that combines an elegant style with an ancient flavor to the historical accuracy of the information.
Data sheet
Globe Material
Cellulose, Polymer
Structure Material
The legs are handcrafted from solid hardwood with a chestnut stain, The shelves are from hand-painted MDF to give chestnut colour
Rotating globe sphere
Yes
Type
Floorstanding Bar Globes