Caronte Safari
Large bar globe on spiral legs and casters "Caronte Safari"
COD: Z.86.SA
One of the biggest classic bar globe, this floor-standing globe has an inner compartment that can accommodate up to 6 or 8 bottles and approximately 16 glasses. Additional bottles can be stored on the lower base, beautifully decorated with natural water-based colors. The globe sphere, whose map is a faithful reproduction of a 16 th Century cartography, fully rotates around its meridian either when it is open or closed. You can easily move it thanks to its casters.
Store your favorite liqueurs or wines in our Caronte globe and share them with your guests!
Bar accessories are not included.
Features
- Dimensions: 73 × 73 × h 103 cm
- Sphere diameter: 60 cm, the inner compartment can accommodate up to 16 glasses and 6/8 bottles. Further bottles can be stored in the lower compartment.
- 16th century map
- Structure: 4 spiral legs made of beech wood, northern meridian, internal bottle rack, 4 wheels
- Color: safari
Our suggestions
- Designed to give a touch of elegance to your living room or office
- Ideal to accompany an aperitif or an after dinner with friends or work colleagues
- Perfect for decorating rooms in a classic style but does not exclude more modern locations
- Suitable for those with large spaces (for greater enhancement of the product we suggest placing it in a space of at least 90 x 90cm)
- The Caronte globe is also perfect as a gift idea to amaze. 
XVI CENTURY MAP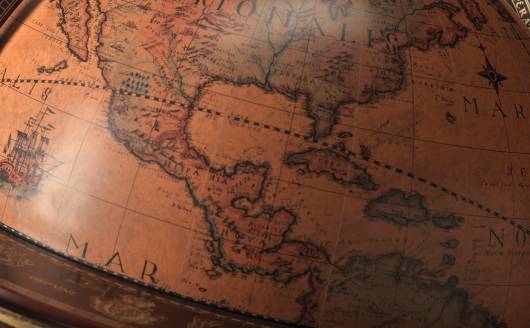 Explorers, new worlds to discover, long sea journeys through foreign lands and seas never sailed. All the charm of ancient maps is contained in this accurate reproduction dated 1500, defined as the "Golden Age of Cartography" for the innovative contribution given by great cosmographer of the time like Waldeseemüller, Piri Reis, Frisus, Mercatore. This map is full of geographical references in line with the knowledge of the age and the interior of the globe is finely decorated with ancient iconographies and mythological characters. A cartography that combines an elegant style that tastes ancient and the historical accuracy of information.
Data sheet
Dimensions
73 x 73 x h 103 cm
Globe Material
Cellulose, Polymer
Structure Material
The legs are handcrafted from solid hardwood with a chestnut stain, The shelves are from hand-painted MDF to give chestnut colour
Rotating globe sphere
Yes
Type
Floorstanding Bar Globes