Dedalo
Large Bar Globe with Classic design "Dedalo"
COD: Z.27
The greatest inventions in history and the most beautiful works of art in the world have something in common: to be made they required the perfect combination of knowledge and creativity. Wisdom and method on the one hand, intuition and genius on the other.
According to legend, Minos, king of Crete, decided to design a sophisticated labyrinth in which to forever lock up his stepson, the terrible Minotaur. For this he asked for help from Daedalus, an architect and inventor known throughout Greece for his skills. At the end of the work, however, Daedalus was locked up in the labyrinth together with his son Icaro by Minos, who did not want to take the risk that his creator would reveal the project to someone. To be able to escape, the genius built two pairs of wings of feathers and wax: but the flight of freedom, as the legend tells, cost his son dearly who, getting too close to the sun, made his wings melt and fell.
Ingenuity and imagination: this is how the bar globe was born too, from the long experience of Italo Zoffoli who had been working with wood for many years, producing fine hand-painted globes, and from a sudden idea that came in a moment, while sipping a glass of wine. Since that day, inspiration and knowledge have become the hallmark of Zoffoli, who has decided to pay homage to these two qualities by giving the name of the Greek hero to one of his most beautiful globes.
Dedalo is a timeless globe, as eternal as the history of man, of his qualities and of those legends with a moral that we will never learn. It has the charm of myth and antiquity: the map is a replica of an ancient 16th century cartography; inside the sphere, extraordinary mythological characters overlook the internal decorations. The sphere rotates completely around its meridian, in both open and closed positions.
Have you already chosen what to sip? A whiskey or a fine rum? A Brandy or a Bourbon? The compartment can hold up to 4 bottles and 12 glasses: ideal for enjoying a glass alone, letting your imagination travel, or sharing the next project with friends and colleagues. Other bottles can be placed on the lower base, unique in its rectangular shape with detailed curves.
Dedalo  is the emblem of those who feel the sacred fire of creativity inside: of those who know they have to follow it to the end, at any cost.
Features
- Dimensions: 68 × 68 × h 99 cm
- Designed to give a touch of elegance to your living room
- Ideal to accompany an aperitif or an after-dinner with friends or colleagues
- Perfect for furnishing classic interiors
- Suitable for those with plenty of space (for a greater product enhancement we suggest placing it in a space of at least 90 x 90cm)
- Dedalo globe is also perfect as a gift idea to amaze
XVI CENTURY MAP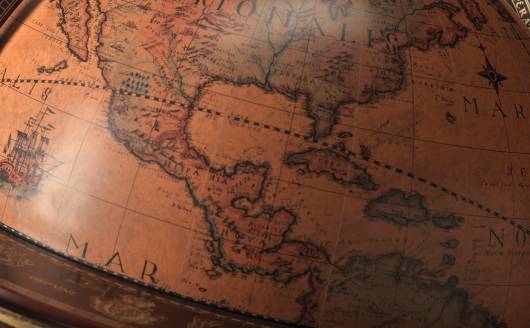 Explorers, new worlds to discover, long sea journeys through foreign lands and seas never sailed. All the charm of ancient maps is contained in this accurate reproduction dated 1500, defined as the "Golden Age of Cartography" for the innovative contribution given by great cosmographer of the time like Waldeseemüller, Piri Reis, Frisus, Mercatore. This map is full of geographical references in line with the knowledge of the age and the interior of the globe is finely decorated with ancient iconographies and mythological characters. A cartography that combines an elegant style that tastes ancient and the historical accuracy of information.
Data sheet
Dimensions
68 x 68 x h 99 cm
Globe Material
Cellulose, Polymer
Structure Material
The legs are handcrafted from solid hardwood with a chestnut stain, The shelves are from hand-painted MDF to give chestnut colour
Rotating globe sphere
Yes
Type
Floorstanding Bar Globes
You might also like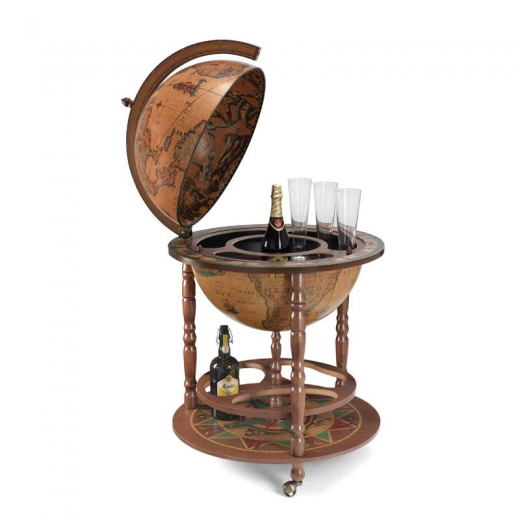 Vintage bar globe with wide lower shelf "Calipso" 
Large Bar Globe with Classic design "Dedalo Laguna"