Virgo
COD: Z.810.GEA
Free shipping in Italy and in the countries of the European Community
Floorstanding bar globe with Ochre and Burgundy updated map and stylized shapes. Made of high quality materials this globe, equipped with hidden wheels, has an inner bar compartment to store 6 or 8 bottles and approximately 16 glasses. Additional bottles can be stored on the unique lower base shelf decorated with a beautiful wind rose, perfectly harmonious with the Zodiac band around its equatorial line. Decorate your home or your office with a touch of classicism.
Bar accessories not included.
Features
- Dimensions: 75 × 75 × h 100 cm
- Sphere diameter: 60 cm, the inner compartment can accommodate up to 16 glasses and 6/8 bottles.
- Contemporary map
- Structure: 4 legs in beech wood, north and south meridian, internal grid for bottle holders, 4 retractable wheels
Our suggestions
- Designed to give a touch of elegance and eccentricity to your living room or office
- Ideal to accompany an aperitif or an after dinner with friends or work colleagues
- Perfect for decorating rooms in a classic style
- Suitable for those with large spaces (for greater enhancement of the product we suggest placing it in a space of at least 95 x 95 cm)
- The "Virgo" globe is also perfect as a gift idea to amaze and not go unnoticed.
CONTEMPORARY MAP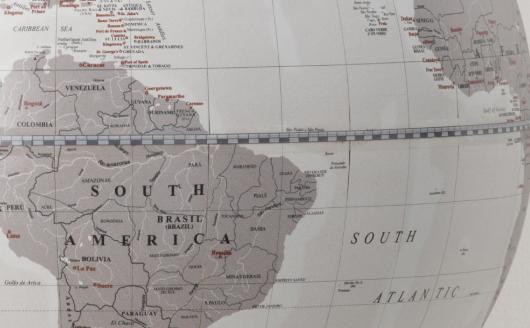 In the Contemporary Map modern cartography marries design. Current and detailed information are combined with modern styled chromatic combination. To be noticed: every state has the name of the nation written in its own national language, with relative English translation. An original and interesting journey between world's languages!
Data sheet
Dimensions
75 x 7 x h 100 cm
Globe Material
Cellulose, Polymer
Structure Material
The legs are handcrafted from solid hardwood with a chestnut stain, The shelves are made in laminated MDF
Globe color
Ochre, Burgundy
Rotating globe sphere
Yes