Vasco da Gama - All White
"Vasco da Gama" floorstanding globe
COD: Z.920/WW.06
Free shipping in Italy and in the countries of the European Community
The Portuguese explorer Vasco De Gama was the first European who reached India by sea. It is from him that this globe takes its name. The map, updated from our team of cartographers, boasts incredible details in terms of countries and major cities, rivers, seas and mountains. The wooden stand and aluminum meridian give maximum balance and stability.
Do you want to enhance your spaces with an original piece of furniture? The Vasco De Gama globe is the right choice for you. 
Simple lines but with an attractive and minimal design; this floor globe is ideal for decorating your living room or office.
Features
- Dimensions: 43 × 43 × 115 cm 
- Designed to give a touch of elegance to your living room or your office
- Ideal for modern interiors
- Suitable for those who have small spaces (for a greater product enhancement we suggest placing it in a space of at least 70×70 cm)
- The Vasco de Gama globe is also perfect as a gift idea to amaze.
CONTEMPORARY MAP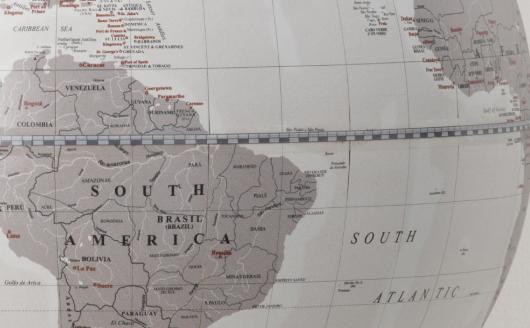 In the Contemporary Map modern cartography marries design. Current and detailed information are combined with modern styled chromatic combination. To be noticed: every state has the name of the nation written in its own national language, with relative English translation. An original and interesting journey between world's languages!
Data sheet
Dimensions
43 x 43 x h 115 cm
Globe Material
Cellulose, Polymer
Structure Material
Central leg in beech wood, The base is from hand-painted MDF to give chestnut colour, The meridian is in aluminum
Rotating globe sphere
Yes
You might also like
"Vasco da Gama" floorstanding globe
Last items in stock
"Vasco da Gama - All Black" floorstanding globe
Last items in stock
Related articles on blog
No related articles on blog