Vasco da Gama - All White
"Vasco da Gama All white" floorstanding globe
COD: Z.920/WW.06
Many were the great explorers who marked their time and the centuries to come. With their travels and discoveries, they changed the world of cartography and were a source of inspiration for travelers who came after them. From Colombo to Vespucci, their names are part of the collective memory. The Portuguese explorer Vasco Da Gama was the first European to reach India by crossing the Indian Ocean, connecting forever, by sea, East and West.
It is to pay homage to his extraordinary feat, considered a milestone in the history of the world, that we have created the Vasco Da Gama globe. A classic from our catalog, versatile par excellence: its sturdy beech wood structure and contemporary map make it perfect for decorating and, why not, revisiting geography in honor of the famous explorer from which it takes its name.
Get ready to identify your next destination by closing your eyes and pointing your finger: Vasco Da Gama is ideal to fascinate young and old and attract the attention of your guests with its 115 cm that rise majestically.
In honor of the wonderful colors of India, so dear to him, we offer it in four different shades.
Vasco da Gama All White
it is a triumph of white light: it will give a touch of brightness to your rooms, attracting the most daring glances. The touch of style for your most modern environments. For those who love to dare, move, explore: in furnishings as in life.
Features
- Dimensions: 43 × 43 × h 115 cm
- Sphere diameter: 40 cm
- Contemporary map
- Color: white/gold 
- Structure: central column made of beech wood, meridian in aluminum
Our suggestions
- Designed to decorate your office or living room in an original way
- Perfect for decorating modern and classic style environments
- Suitable for those who have small spaces (for a greater enhancement of the product we suggest placing it in a space of at least 60 x 60cm)
- The Vasco da Gama globe is also perfect as a gift idea to amaze.
CONTEMPORARY MAP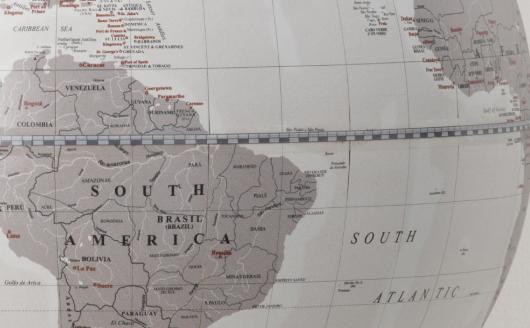 In the Contemporary Map modern cartography marries design. Current and detailed information are combined with modern styled chromatic combination. To be noticed: every state has the name of the nation written in its own national language, with relative English translation. An original and interesting journey between world's languages!
Data sheet
Dimensions
43 x 43 x h 115 cm
Globe Material
Cellulose, Polymer
Structure Material
Central leg in beech wood, The base is from hand-painted MDF. The meridian is in aluminum
Rotating globe sphere
Yes
You might also like
"Vasco da Gama" floorstanding globe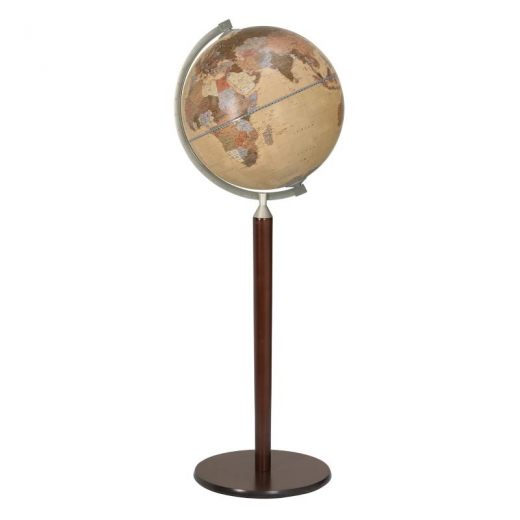 Floorstanding globe "Vasco Da Gama - Apricot"
"Vasco da Gama - All Black" floorstanding globe