Galileo Rust
"Galileo" desk globe drinks cabinet
COD: U.010
Free shipping in Italy and in the countries of the European Community
The new desk bar globe Galileo is a fine example of Italian craftsmanship. Based on a hand-drawn 18th Century map, the Galileo bar globe is ideal for limited floor space or as an alternative to the classic floor-standing bar globe. A standard globe drinks cabinet model with a chestnut stained wooden base. It holds 2 or 3 bottles and up to 9 glasses.
With this mini-bar you can store your favorite liqueurs and offer your guests a drink in an original way!
Bar accessories are not included.
"The sun, with all those planets revolving around it and dependent on it, can still ripen a bunch of grapes as if it had nothing else in the universe to do." (Galileo Galilei)
Features
- Dimensions: 40 × 40 × h 50 cm
- Sphere diameter: 40 cm, the inner  compartment can accommodate up to 9 glasses and 2/3 bottles
- XVIII century map
- Colour: rust
Our suggestions
- Galileo is ideal to be placed on a desk, on a shelf or on a coffee table.
- Perfect to give a touch of originality to your living room or office.
- It Decorates rooms in a classic style but does not exclude more modern locations.
- Suitable for those with limited spaces (for greater enhancement of the product we suggest placing it in an area of ​​at least 60 x 60 cm)
- The "Galileo" globe is perfect as a gift idea to amaze.
XVIII CENTURY MAP
Based on the geographical knowledge of the period between XVII and XVIII century, this map shows the work of Dutch cartographies of the century; in order to sketch naval courses, oceans and continents, they tapped into the travel journals of great transoceanic navigators, such as Barents, Le Maire, Tasman e Roggveen. Other cartographic contribution from the same age, but with different origin, allowed to add to the illustration remote and cartographically unclear lands such as a part of Tartary, the subpolar area of North America and the eastern Australian shores, but left a vague layer corresponding the Arctic and Antarctic "terra incognita". It was kept the prevalence of Latin toponymy that corresponds to the universal language used for cartography. The images represent the ornamental and mythological motives of the time. The vessels are the copy of those that, after thousand years of scientific denial, proved the roundness of the world and led to the rescue of that geographical three-dimensionality that only the globe can offer to men's eyes.
Data sheet
Dimensions
40 x 40 x h 50 cm
Globe Material
Cellulose, Polymer
Structure Material
The base is from hand-painted MDF to give chestnut colour
You might also like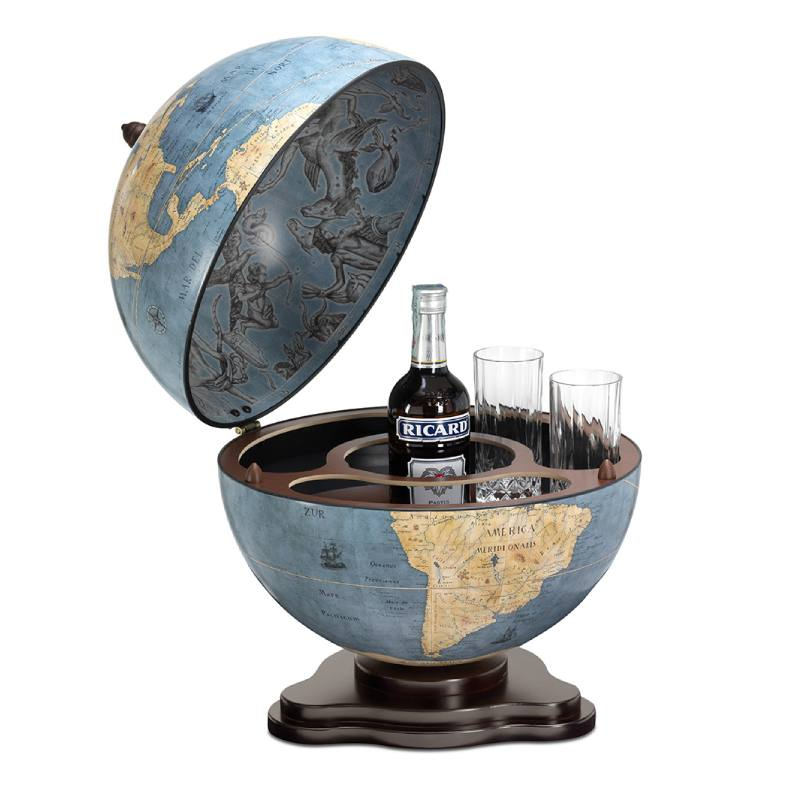 "Galileo" desk globe drinks cabinet