Classic style is synonymous with refinement and elegance and wooden furnishings, with their lighter or darker essences, are the undisputed protagonists. Some wooden globes are to be preferred if you want to furnish your home in an antique style or the professional's office: these are exclusive artefacts that emphasise their elegance and can satisfy the most refined aesthetic needs.
Classic bar globe: a unique piece of furniture
Capturing the attention of guests, especially if they are passionate about classic luxury style, is undoubtedly a pleasure. This happens every time, after crossing the door of the professional studio or home, you see a Zoffoli globe bar.
Since 1949, when the founder hand-carved globes with rare skill, the handicraft has not changed much as the company continues to make craftsmanship one of its strengths.
Today, the catalogue offers a wide range of bar globes made of precious wood: here is a selection of 5 exclusive pieces that can complete furniture linked to the values of tradition.
Enea Globe Bar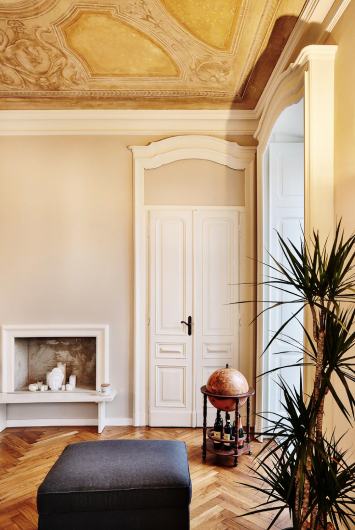 Enea is the ideal globe bar for those with small spaces. Made with four elegant turned legs in beech wood that rest on wheels, it features 16th-century cartography in classic colours. The interior, on the other hand, is embellished by well-kept images of the celestial vault. Up to about 9 glasses and 2 or 3 bottles can be housed, others are placed on the lower base.
Da Vinci Rust Bar globe
Da Vinci Rust is a classic globe with an enchanting 18th-century hand-drawn cartography available in rust or sky blue. The base is beautifully decorated with a wind rose. Equipped with comfortable wheels, it has three turned beech wood and a bottle holder that can hold 2 bottles and 9 glasses. Other bottles can be placed on the base.
Vivalto Globe Bar
Vivalto is the bar globe, with a trolley and tray, presenting a vintage map made more precious by original illustrations that reflect the themes of ancient symbolism, such as mermaids and mythological monsters. The globe holds up to 9 glasses and 2 or 3 bottles, others can be placed on the lower shelf or the tray. Three elegant turned beechwood pieces complete this original structure with class.
Explora-Honey Brown Bar Globe
Explora-Honey Brown is a fascinating globe with an 18th-century map that lets you dream using colours that reproduce the honey brown of the lands of the Grand Canyon. It can furnish classic and modern environments with elegance; this precious globe has a structure that includes three spiral legs in beech wood and a compartment for 2-3 bottles and 9 glasses.
Aphrodite Globe Bar
Afrodite is a world-class globe bar of immense value, made entirely of beech wood, with four turned pieces and the base in solid toulipier wood. This high-quality globe is finished with mahogany lacquer and with the application of 22-carat gold leaf which gives the prestigious bar cabinet warm and luminous shades. The elegant 16th-century map features accurate historical information that adds charm to this piece of furniture. Inside there are up to 8 bottles and 16 glasses.
Zoffoli Globes: a history of over 70 years
A Zoffoli globe not only fascinates and involves because it allows you to dream of travels to distant lands, but it is above all a classic of furniture where quality and attention to detail are a constant.
These luxury products are exported all over the world: made with materials of extraordinary quality, they are the result of craftsmanship handed down through the generations.
After more than 70 years from the beginning of this wonderful adventure, where the passion for work has always played a preponderant role, the company boasts a large catalogue of globes of great value that can be combined with classic, modern and to the mix and match between the two.