Total White
The Supernova floor standing globe, for example, is meant to be positioned in a modern and sophisticated environment, and to satisfy an audience that is attentive to the smallest detail. Sculptural and elegant thanks to the precious base in white Carrara marble, this piece of furniture is the perfect combination of contemporary design and pure craftsmanship, with an irresistibly modern style ...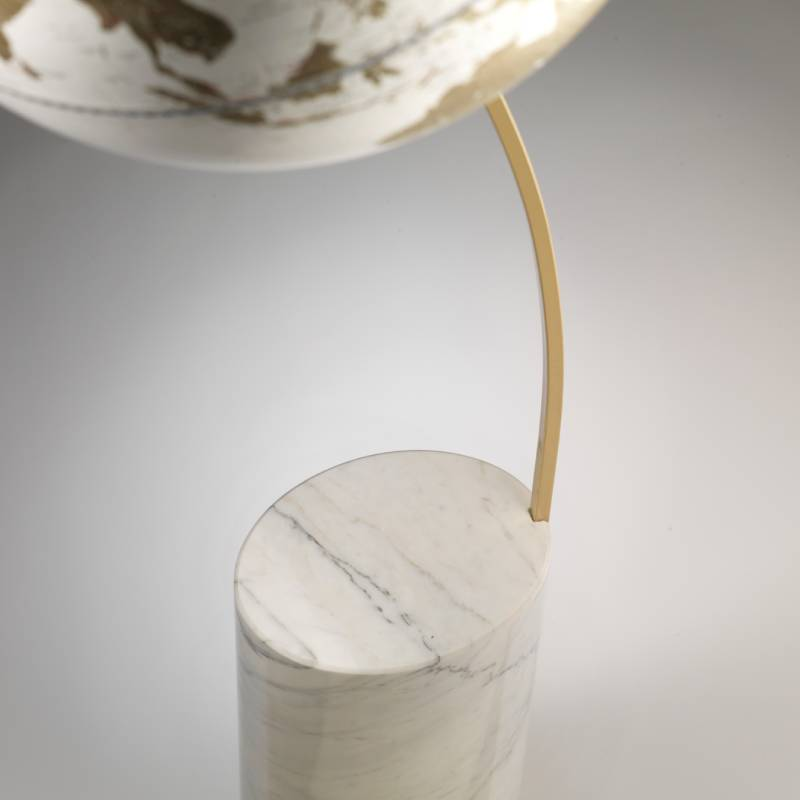 Supernova White
Sculptural and minimalist, this globe stands out for its originality and modernity.

Product description
The name of this globe refers both to the enormous load of energy released by the most powerful of the stellar explosions - the supernova, to be precise - and to the vibrant novelty of this design object, which stands out for its originality and modernity. 
The structure
At the base of this unmistakable floor standing globe there is an elegant block of white Carrara marble, the quintessential Italian marble that, as such, is known and appreciated throughout the world. From this solid foot rises upwards a sturdy - but at the same time graceful - brass rod, on top on which our globe is placed, becoming the absolute protagonist of the room. 
The map
The seas of the map explicitly recall the colors of the marble base, thus creating an absolutely complete piece of furniture, from which is difficult to take one's eyes off. 
Technical specifications
Dimensions
40 × 40 × 130 cm
Globe Material
Cellulose, Polymer
Structure Material
White Carrara Marble
Map
Contemporary, White/Gold
Rotating globe sphere
Yes