Afrodite
Charming large bar globe with handmade golden decorations "Afrodite" 
COD: Z.21/13
Afrodite is a masterpiece of Italian handcraft. This elegant bar globe is enriched with gold foil finishes assembled by our master craftsmen. To all of those who love surrounding themselves with precious and sophisticated pieces of furniture, the structure, made of beech varnished-mahogany wood, will bring class into any room. The top opens to reveal a drinks cabinet that comfortably accommodates up to 6 or 8 bottles and approximately 16 glasses. The globe sphere, whose map is a faithful reproduction of a 16th Century cartography, fully rotates around its meridian either when it is open or closed. You can easily move it thanks to its casters.
Bar accessories are not included.
Application of gold leaf
Afrodite globe bar is handmade by our expert craftsmen. The application of gold leaf is a job of extreme precision: it needs a lot of care, delicacy and attention in all the processing steps.
The first phase starts with the application, with the use of a simple brush, of an emulsion of glue on the wooden components such as base, equatorial circle, columns and knob. This emulsion will allow the gold to bond.
After cutting the 22 carat real gold leaf, we proceed with the application of the same on the wood, always spreading it with the use of a brush. The application can also take very long times between one phase and another and requires a dry environment without air changes.
After being spread and smoothed, it is fixed in order to obtain the special warm, elegant and luminous gold finish.
Features
- Dimensions: 84 × 84 × h 104 cm
- Sphere diameter: 60 cm
- 16th century map
- Structure: 4 legs made of mahogany lacquered solid beech wood, north / south meridian, internal bottle rack, 4 retractable wheels
- Color: Classic
Our suggestions
- Designed to give a touch of elegance and sumptuousness to your living room or office
- Ideal to accompany an aperitif or an after dinner with friends or work colleagues
- Perfect for decorating rooms in a classic style
- Suitable for those with large spaces (for greater enhancement of the product we suggest placing it in a space of at least 100 x 100cm)
- The "Afrodite" globe is also perfect as a gift idea to amaze and not go unnoticed.
XVI CENTURY MAP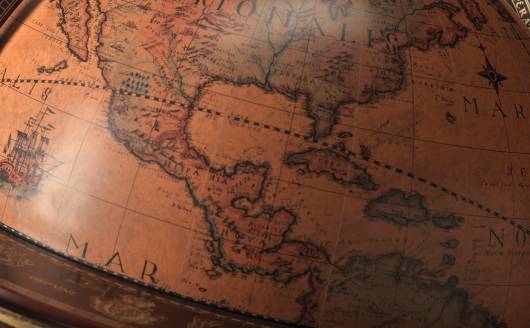 Explorers, new worlds to discover, long sea journeys through foreign lands and seas never sailed. All the charm of ancient maps is contained in this accurate reproduction dated 1500, defined as the "Golden Age of Cartography" for the innovative contribution given by great cosmographer of the time like Waldeseemüller, Piri Reis, Frisus, Mercatore. This map is full of geographical references in line with the knowledge of the age and the interior of the globe is finely decorated with ancient iconographies and mythological characters. A cartography that combines an elegant style that tastes ancient and the historical accuracy of information.
Data sheet
Dimensions
84 x 84 x h 104 cm
Globe Material
Cellulose, Polymer
Structure Material
leg in beech wood, solid toulipier wood base, toulipier veneer circle and arches. All finished with mahogany and gold leaf lacquering
Rotating globe sphere
Yes
Type
Floorstanding Bar Globes
You might also like
Extra Large classic globe bar "Demetra" 
Last items in stock