Apollo
Large classic floor globe "Apollo"
COD: Z.49
Free shipping in Italy and in the countries of the European Community (except Cyprus and Canary Island)
For those who have a lot of space to fill and love to be surrounded with objects of an historical charm, this globe is the ideal compromise. The sphere, covered with a 16th Century replica map, rests on a solid hardwood base that gives maximum balance and stability. The globe rotates around its axe and it is embedded is its meridian which is made out of antique gold aluminum. Either in your house or in your office, this globe recalls the beauty of old times… But never gone by!
Features
- Dimensions: 80 x 80 x h 100 cm
- Sphere diameter 60 cm
- XVI Century map
- Color: classic
Our suggestions
- Designed to give a touch of elegance to your living room or to your office
- Perfect for decorating rooms in a classic style
- Suitable for those with large spaces (for greater enhancement of the product we suggest placing it in a space of at least 100 x 100 cm)
- The "Apollo" globe is also perfect as a gift idea to amaze
XVI CENTURY MAP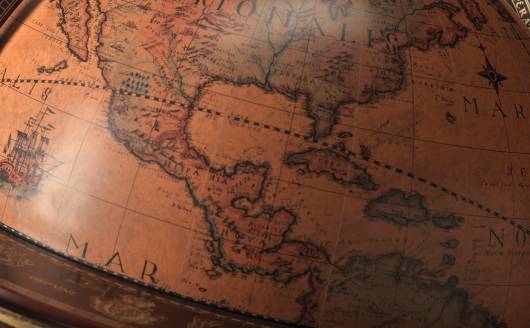 Explorers, new worlds to discover, long sea journeys through foreign lands and seas never sailed. All the charm of ancient maps is contained in this accurate reproduction dated 1500, defined as the "Golden Age of Cartography" for the innovative contribution given by great cosmographer of the time like Waldeseemüller, Piri Reis, Frisus, Mercatore. This map is full of geographical references in line with the knowledge of the age and the interior of the globe is finely decorated with ancient iconographies and mythological characters. A cartography that combines an elegant style that tastes ancient and the historical accuracy of information.
Data sheet
Dimensions
80 x 80 x h 100 cm
Globe Material
Cellulose, Polymer
Structure Material
Beech wood
Rotating globe sphere
Yes
You might also like
Large Floorstanding globe "Aries"
Related articles on blog
No related articles on blog