A globe is one of those furnishing accessories that really cannot miss in a well-designed house. These objects, whose history begins hundreds of years ago, represent the spirit of adventure and the desire for exploration that has always pushed humanity beyond its limits.
Since 1949, Zoffoli has been offering globes created with the utmost care and characterized by an impeccable and innovative design. Choosing to donate one of the Zoffoli globe means giving a class object rich in history.
Each globe is realized by hand, with the biggest care for every detail: in this article, we will discover everything you need to know about these particular furnishing accessories, on the exceptional quality offered by Zoffoli and on the reason why these accessories can be a gift as original as appreciated.
Zoffoli Globes: a collectible piece of furniture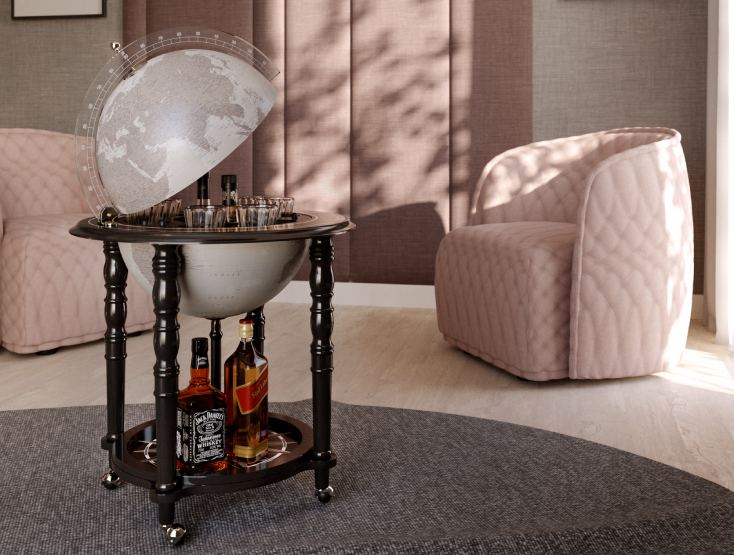 The Zoffoli globes are objects cared for in every detail, and distinguished by a unique design. Zoffoli offers two collections: Elegance and Prestige.
The Elegance line is characterized by a sophisticated design and its leading products are the bar globes. They consist of large globes that enclose a mobile bar. A refined object, born in the '50s from the intuition of Italo Zoffoli, and made famous by its presence in numerous action films of the time and contemporaries. The Elegance line is wide, and very varied in terms of design proposed: here you can find both globes inspired by vintage lines, and contemporary models, characterized by rigorous and almost minimalist lines.
The proposals of the Prestige line are real design elements, which make pure luxury their strength. This line mainly refers to the classic and timeless style of the ancient globes, with historical maps with indisputable charm. What really makes the difference are the materials used, of great value: we speak of globes with bases in solid wood, and craftsmanship of exceptional finishing.
Whatever the Zoffoli globe you choose, you will have a guarantee: these furnishing objects, incredibly refined, are so beautiful and cared for that they are real collector's items, to be handed down from generation to generation. A piece of furniture like this is a gift that will certainly be appreciated by those who love quality Italian design, and care for their home or professional environment with attention.
Travel through the maps
A globe represents the exploratory ambition of the entire human race: and by simply observing it, or scrolling with your finger on the maps of the globe, it will be easy to imagine incredible adventures in distant exotic places, recreating that forgotten magic of childhood. But it is important to emphasize that the various types of maps can offer very different experiences, and Zoffoli knows this well. For this reason, the proposal of Zoffoli globes is characterized by many different graphic styles, and includes both contemporary maps, cartographically precise and updated in every detail, models with vintage maps, and even historical maps that include mythological elements.
Those who appreciate modern cartography can go for globes like Sirio, with the classic blue background, while those who love a more vintage and dreamy look could orient themselves on models James Cook or Scorpius. Larger globes, such as Apollo, include exceptional period illustrations.
You can travel, therefore, both in space and in time, simply choosing the globe that best suits your tastes and your furniture. A globe is much more than a simple piece of furniture: it is a means to travel in the imagination surely appreciated by the recipient of the gift.
The proposal of globe signed Zoffoli is really wide and varied, and includes many models of different sizes and designs: finding the perfect model will be easy, whatever your tastes or those of the recipient of your gift!